Company expansion office
In spring 2019, Langzauner broke ground for an expansion of the company premises. After one and a half years of construction, the entire office complex and restaurant have been completed in addition to the assembly hall. The aim of the new building was to create a logical flow of production, state-of-the-art offices for another 50 employees and a feel-good atmosphere.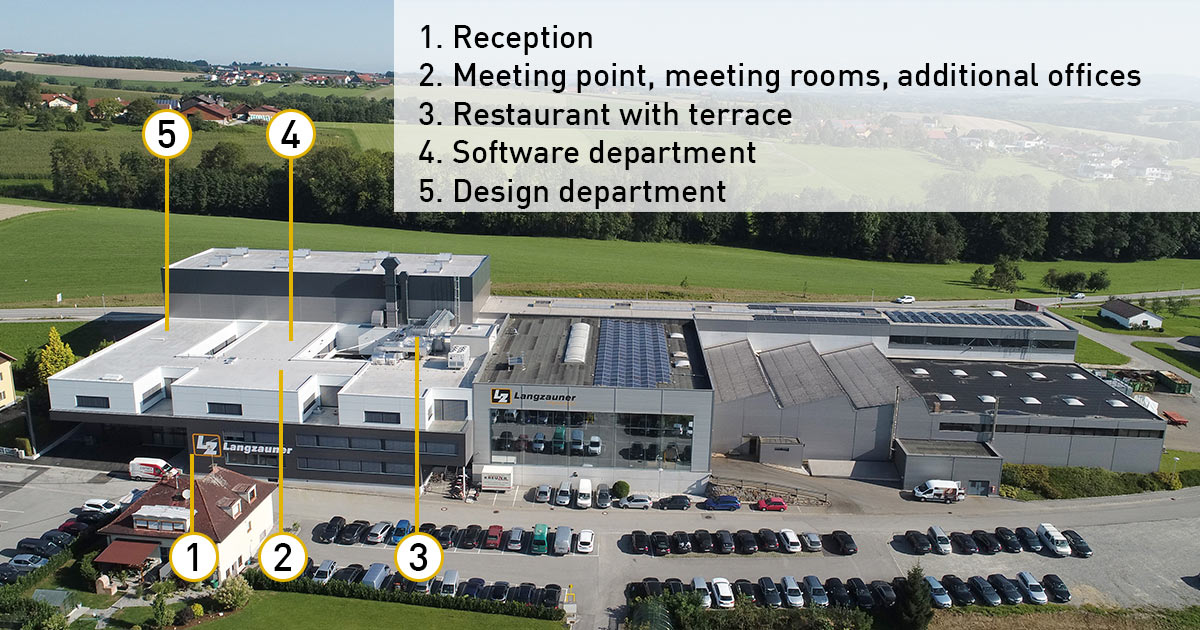 1. Reception
After the renovation, the reception area is a visual highlight. Natural colours and materials combined with state-of-the-art technology can be found here.
1. Waiting Zone
The lounge corner with comfortable seating in Langzauner's corporate colours creates a friendly and pleasant ambience.
2. Meeting Point
The open-plan meeting place in the office landscape is popular during breaks and promotes communication among employees who otherwise have less to do with each other in their day-to-day work.
2. Meeting Room
The new meeting room impresses with innovative media equipment. Thanks to perfect technical equipment that can be operated intuitively, presentations can be held in high quality.
2. Phone Box
The designers and automation technicians work in bright and modern open-plan offices. Separate phone boxes have been installed so that employees can withdraw for important phone calls, for example. Their colleagues can thus pursue their work undisturbed.
3. Restaurant
Another highlight is the company's own restaurant, where employees and guests are indulged with regional and seasonal delicacies. The menu is mostly home-style cooking from the Innviertel region, but there is also a varied salad buffet for salad lovers.
3. Terrace
On sunny days, the terrace is used by employees at lunch. It is accessible from the meeting point, the conference room and the restaurant and offers the employees a bit of relaxation with its green garden. The terrace is also ideal for breaks or short meetings during the warm months.
4. Software Department
In the open-plan office of the software and automation department, the friendly and pleasant working environment continues with an open concept and the use of wood. To ensure that enough natural light enters the offices, atriums were installed.
5. Design Department
n the design departmente alone, there is now three times as much office space available. The open-plan office is equipped with height-adjustable desks, which enable ergonomic and healthy work both when sitting and standing.